Bralettes is a comfortable lacy undergarment you can wear with a lot of types of outfits, It is life liner for everyone who doesn't want to underwire a bra, that digs in. All bralettes haven't lacy but it design lightly supports without feeding constructed, very easy to use. it can wear as a top, under t-shirts, with denim, or other outfits, Its style is very favorite for display fashion open outfits. You've probably seen this item we collected ideas from Youtube, Instagram,, and interest with some brands also. All People women can wear it? But some considerations below "how to wear it?, and how to style under and with outfits and dresses and more. See below the latest fashion according to some amazing ideas for you! go start…
What Is a Bralette?
A Bralettes is both wire-free and underwire but most favorite to wear a without wire. It is comfortable and covers and support well breats. It comes with lacy, mesh, halter or crochet styles. It can also use for a camisole. Bralette band is wide. It comes in V- neck, Plunge , cotton-padded and more.
how is it different from a regular bra
Bralettes are typically more relaxed and less structured than regular bras, because it design created with lack of underwire and padding, with soft fabric and stretchier materials like lace or cotton. It designs for the visible part of an outfit, whereas regular bras are usually worn as a foundation garment that is hidden under clothing. Bralettes is made with lace that are meant to be seen, and they are often styled as a top or layered over other clothing. More natural than normal bra.
Top 5 Ways
Layer a bralette under overalls.
Wear for casual looks.
Bralette under a Crochet dress.
Like crop top or Bralette as Top
Under Blazer
21 best ways to wear a Bralette
1. Bralettes as One-piece Bikini bodysuits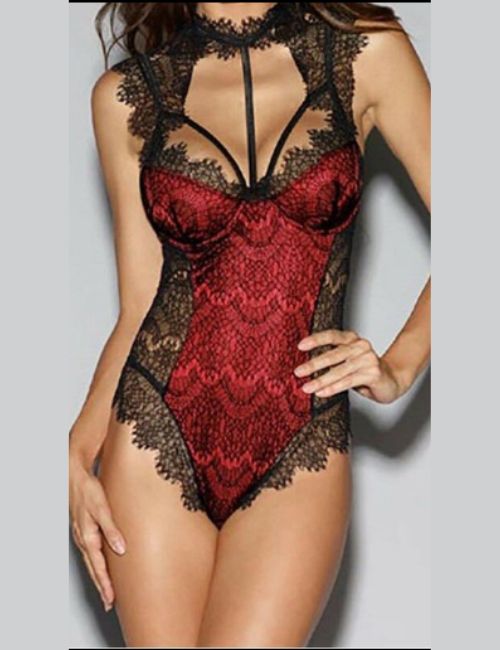 You can wear a bralette as a one-piece bodysuit with Jeans, Skirts, Lacy pants, and more. The long round of neck-straps supported and edge lacy looking stylish.
2. With shorts and Crochet Tops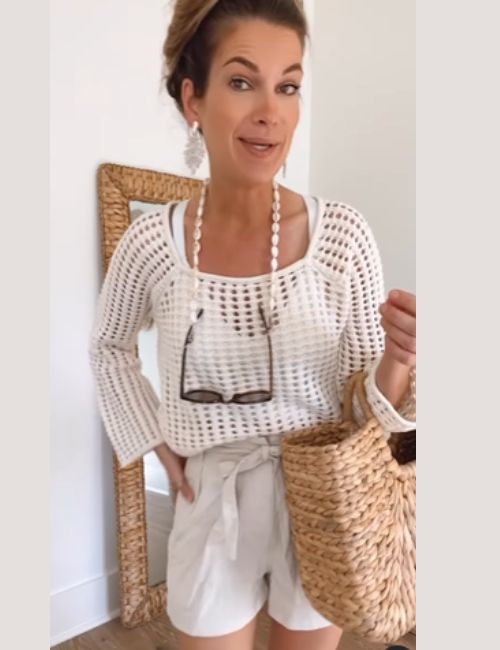 If you're for a summer celebration what you're wearing on it? Go with white color combination of a white Crochet cardigan top, tie shorts, silver earrings, neckless, and black eyes glasses and bags! Welcome to the spring season romantic.
3. Bralette as Top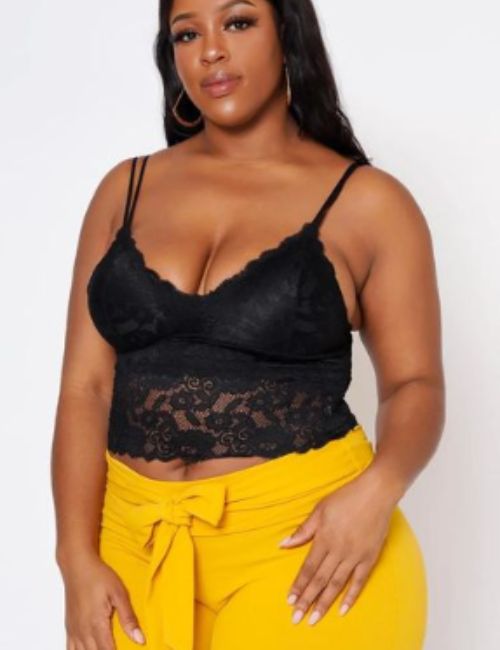 If you love nighttime fashions and party wear more, love this type of bralette for tops and bottoms you any type of shorts! but white, pink, and black are most recommended. Bralette you can as crop Tops.
Do you know How to wear a Crop Top with Belly? when you're plus size.
4. With a Matching pajamas Set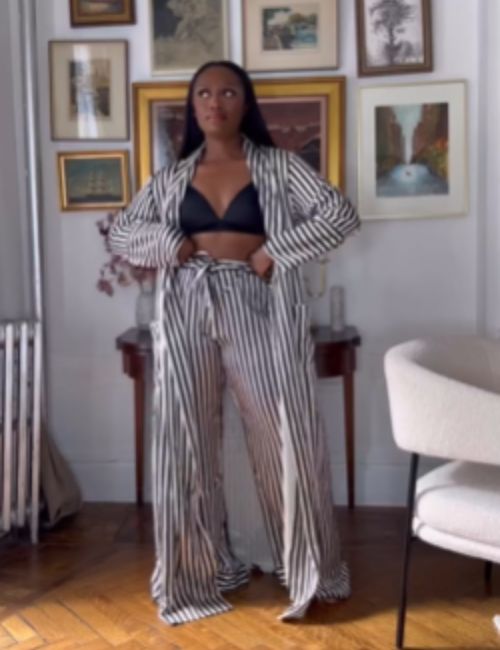 You Know styles are anything, bralettes you can under any dresses. This types of outfits you've already on wardrobe! This is long line printed pajama sets with display bralette fashion hacks! longer! Tops open! and V-neck!
5. Under Blazer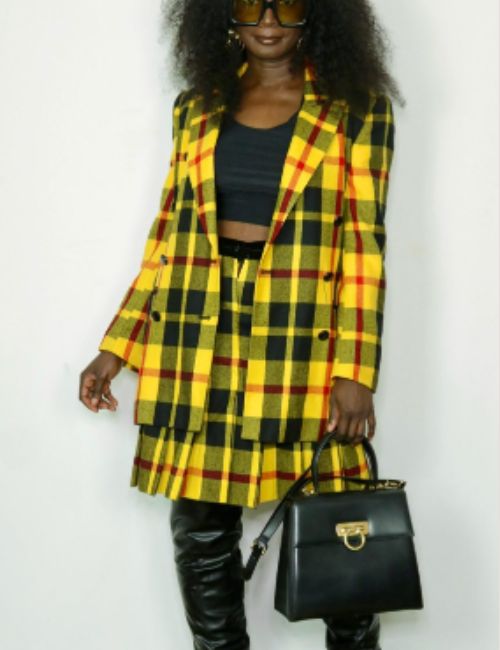 Only lacy Bralttes is not marketting here! here all types of included. For more support combination of sports bra with bralette design very good. This is blazer closet staple! found the same matching skirt, High Heels and Black Bags. This restyling Vintage! Keep Hair open and black glasses classy.
Blazer front bralette! Kylie Jenner styles a lot without bralettes! but you how to wear a blazer with jeans to be trendy.
6. With Sleeve Skirts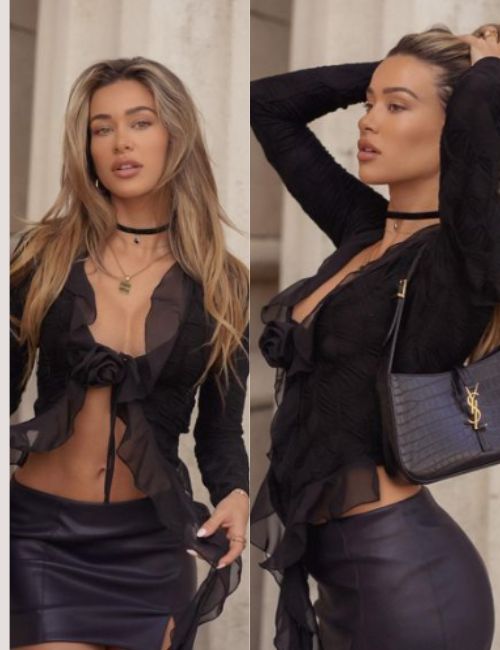 Shorts sleeve and Ruffle tops under bralette with matching colors add eyeliner, lashes, bags, and neckless rounds. It looks amazing different! Keep your skin makeup simple and hair colors blonde.
7. With Beach outfits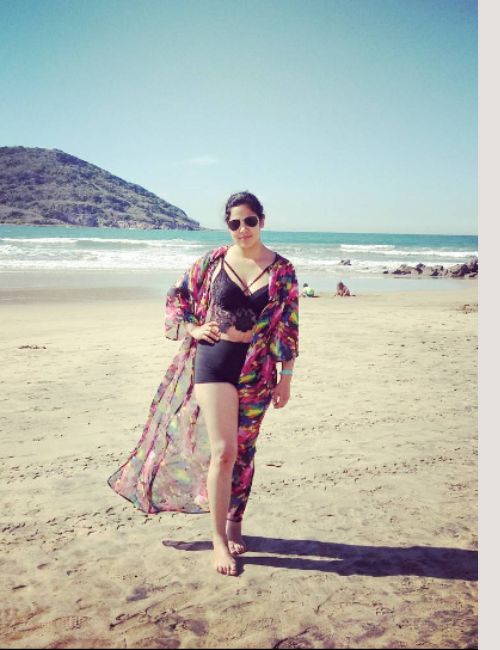 Pair your boyshorts with a black-colored bralette for weekend beach wear walking. Layer with Chiffon outfits outer.
8. Plus size Brallete with Long Sleeve Skirt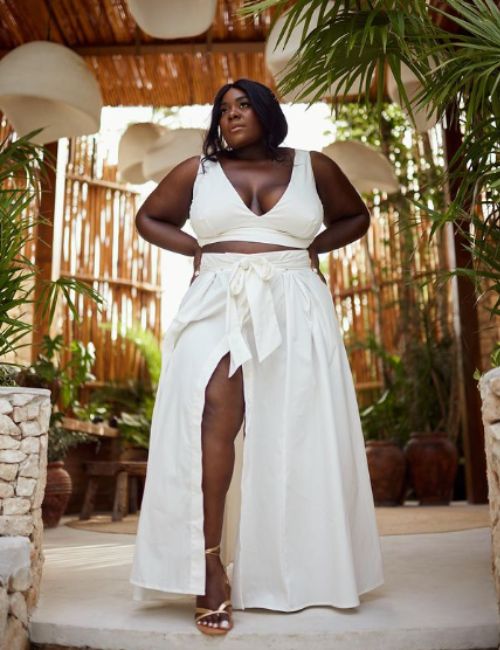 Rising to the occasion is about doing the best you can while also learning to extend yourself grace! So strut it hunny cuz you got this.
It's ok when slepping with a bralette, beacuse it's comfy enough.
9. With Classic Pocket Pants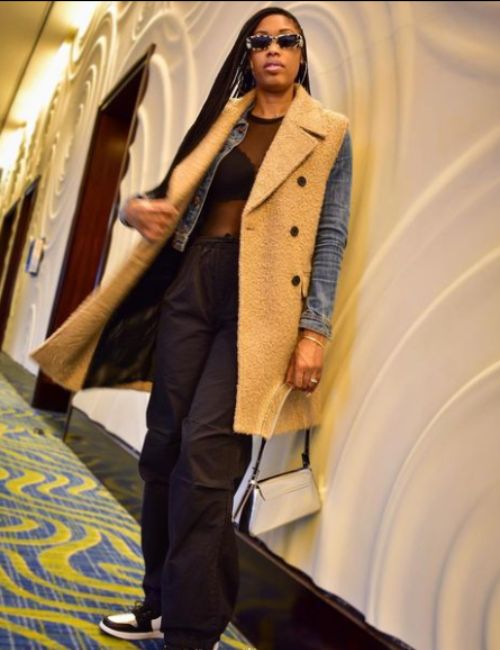 Go match with the pockets classic pants, shoes, 3 button blazers, with a Jeans tops again under a lacy bra.
10. With sequins and cargo pants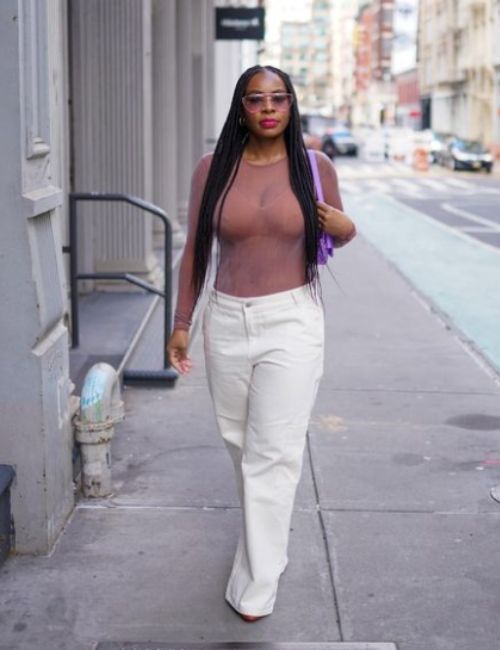 In spring some styling is the hottest to choose a good black bralette with Swquins, purple, mesh, and Cargo pants. It may give elevated look.
High-waisted jeans is good for belly fat when crop top or bralettes because it create a clothing gaps love more high-rise look.
11. With mini skirt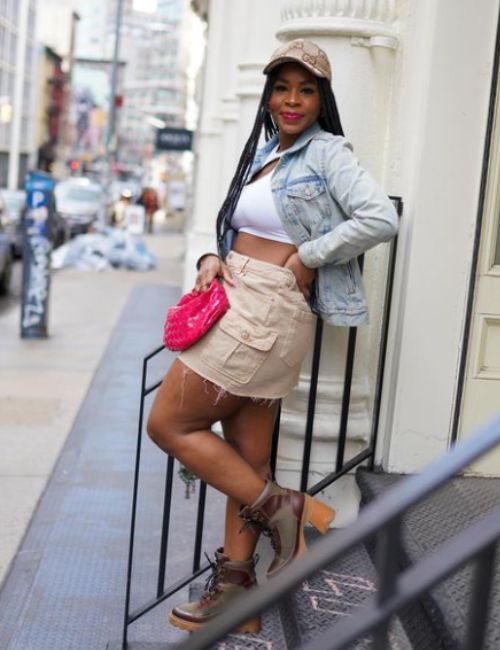 Everyone is loving the cargo pants trend, but let's make it a little more interesting with a cargo mini skirt!
This skirt is giving super cute, versatile, but will get the job done. For some extra Flavour you can added basics and accessories to play on both the utilitarian and girly aspects.
12. With Simple Closets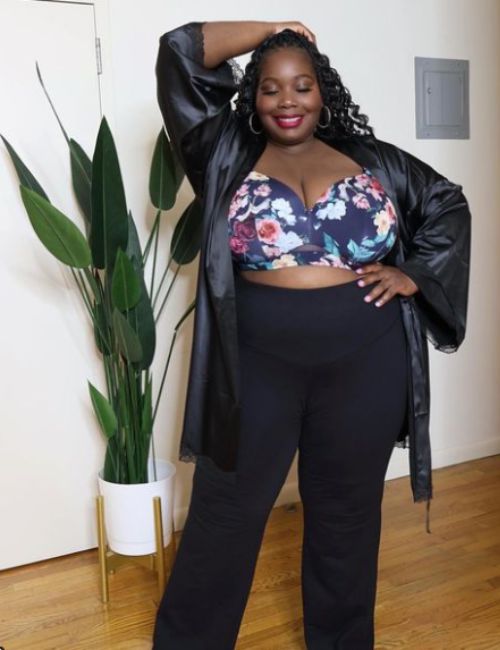 Specially this is not a bralette but it is Bra style in molded cups! It's type of fashion very comfortable when you think of smooth and soft. A microfabric with band airflow and balconette with no wire under a leather pants and blazer good closets.
A plus size women's main problem to their Fupa or lower belly pooch! in a crop top we're not recommended to wear a full body shapewear but shaper panties under a jeans Ok!
13. High-neck Bralette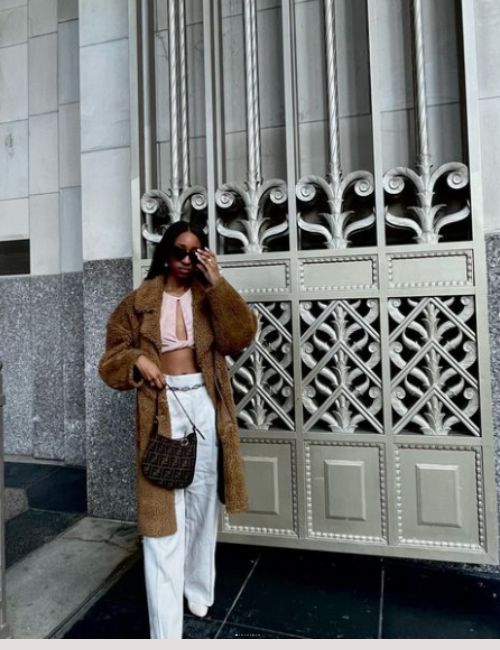 The styles of crop top high- neck bralettes is awesome when you closet. I know a lot of people who end up wasting so many cute tops because the neck is too. But girls, you have no excuses anymore. Wear a bralette and let it outline the neck! it can't get be beautiful looks.
14. Brallete With Denim Short and Blazer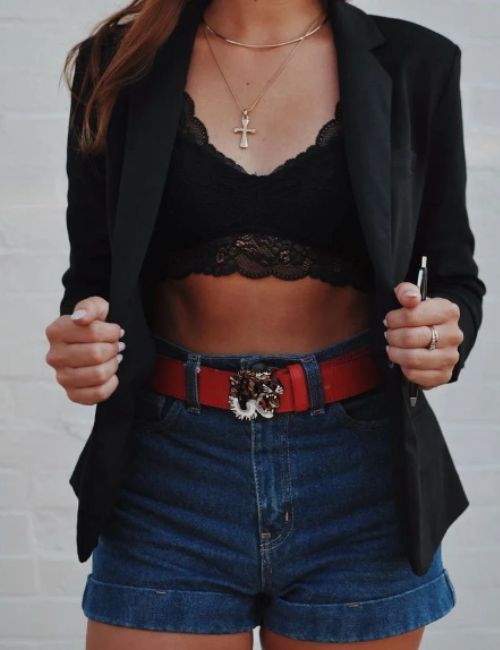 You Welcome! Rockstar! Bralette and Blazer are same colors but Denim is blue. Hairstyles may brown look Beautiful closets. Keep belt wide, apple watch, braslet golden and neckless V-neck and extra side purse of Dior.
How to wear a high-waisted shorts.
15. With Outerwear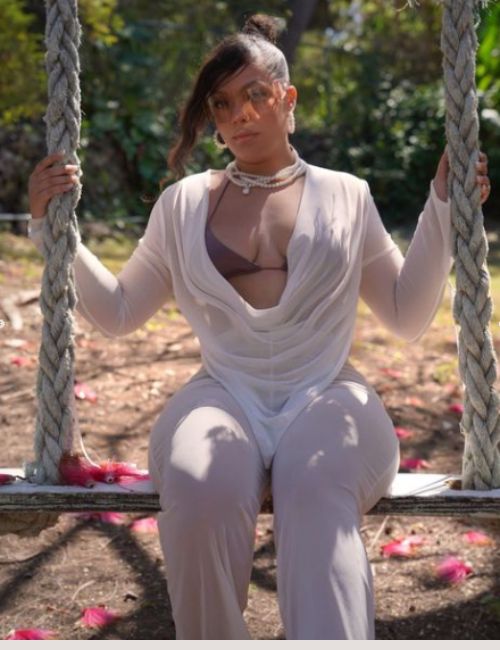 If you want to look amazing! wear a Bralette Bikini sets over a full coverage long V-Neck symmetrical outerwear.
16. Under Crochet Tops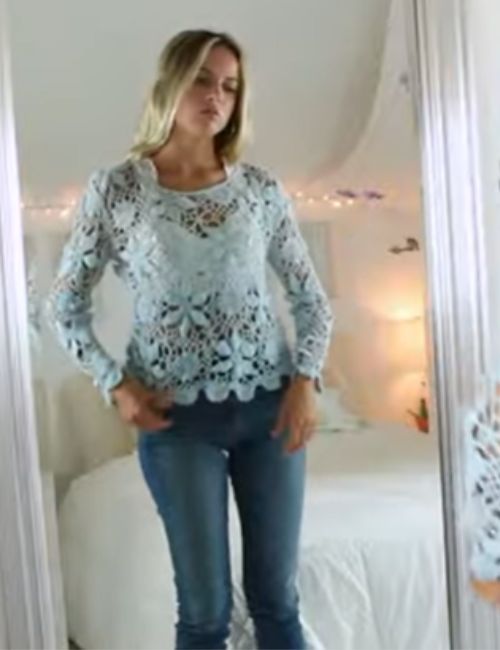 How to style in Lace Bralettes? A lot of different ways you can wearing with lace bralettes! That play role of your body type, Under a crochet dresses, with jeans and Outlets. Consider that Built-in padding! what with or without love! It is gonna Pretty look.
17. Under Crochet Dress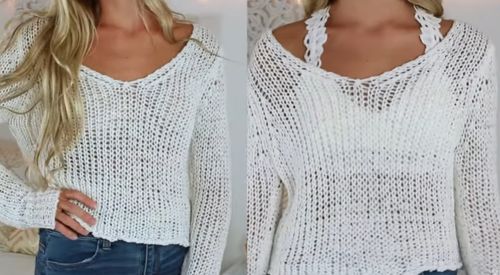 In a winter Season! Sweater round neck under a bralette! pair color match! you can wear on casually.
18. Under Top Tank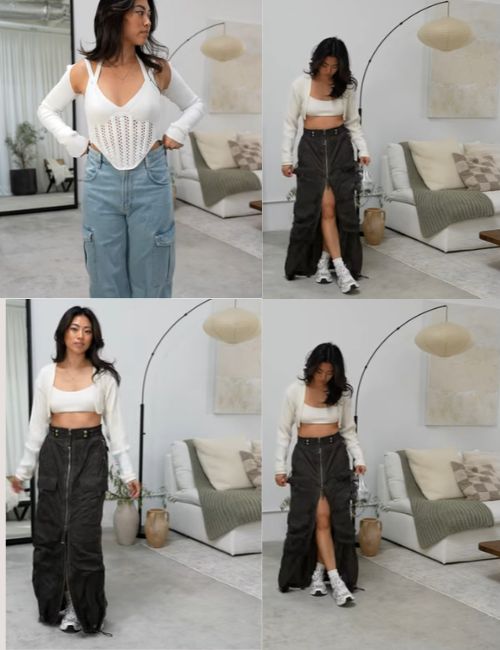 Give your styles with a classic shrug with a modern design, and put it under the same color bralette with Parachute Pants in Zipper, Sneaker is also white! to feel amazing Closets.
19. Bralette under T-shirt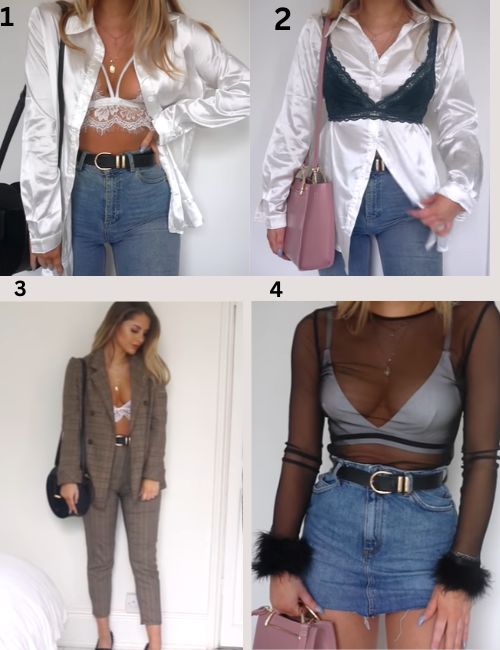 Picture:1: Bralette V-neck under lightweight shirt
Picture 2: Brallete over shirts
Picture 3: under a pair of Blazer sets.
Picture 4: Bralette under Mesh Tops
Triangle Bralettes is a good match under a Bright lightweight shirts! You feel under a braless! Nude and Black Ok! Add Cardigan, sweater, neckless, earrings or bags for looking a Flash. ( On Picture – Wear Description)
20. With Boyshorts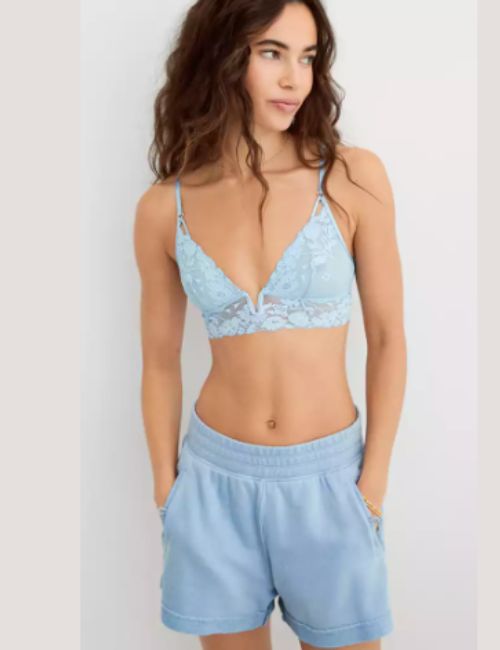 Wildflower Lace Triangle Bralette and High Waisted Fleece Short, quickly made a unique and layerable staple, long line underneath with lace, Light to medium support which I absolutely love. I've rid myself of the constricting tight miserable bras.
21. Bralette with Pair of Sets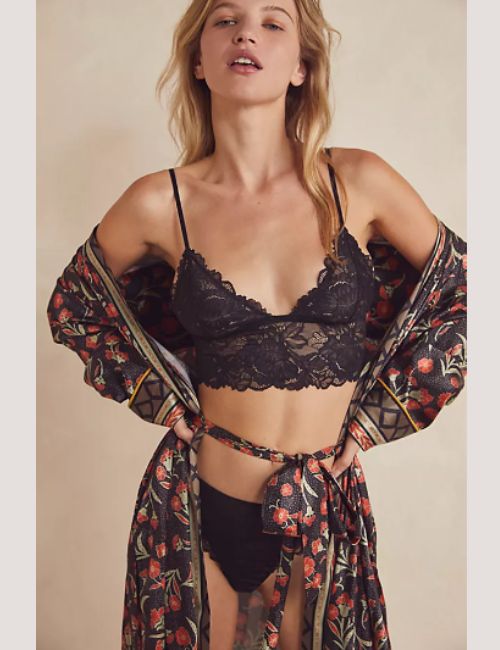 You can also wear everyday Lace Longline Bralette with the sets looking comfy and beautiful, If you want to intimately at night use ok!. It comes in lot of colors and sizes! You can do it, under a wedding dress or outlets.
What to consider when wearing a Bralette?
When making a decision to wear a bralette you consider 6 things:
Support: If you choose the right cup size and styles with underwire, it may more supportive, it also depends on the purpose of wear as innerwear or outerwear, look for a bralette with a more structured design or thicker straps.
Comfort: Consider the correct materials to be made by nylons and spandex, Lacy Deep V Neck, It offers to the high-quality fabric you can put for long time.
Style: Bralettes are designed to be seen, so consider how the bralette will look with your outfit. You may want to choose a bralette with decorative straps or lace details that complement your clothing.
Fit: Bralettes come in a variety of sizes, so make sure to choose the right size for your body. You don't want the bralette to be too loose or too tight, as this can be uncomfortable or cause the bralette to shift around.
Layering: Bralettes can be worn on their own as a top or layered over other clothing. Consider how you want to wear the bralette and choose a style and color that works with your other clothing.
Occasion: Consider the occasion and setting when choosing a bralette. While they can be worn in casual settings, they may not be appropriate for more formal events or workplaces.
Written By Expert
Ask Questions
Can bralettes be worn by women of all sizes and shapes?
Yes! you can, it comes in small, medium, large, and wide ranges size and designs with full coverage bralettes that are supportive and comfortable all day.
2. What types of outfits are best paired with a bralette?
See! Top 5 Ways and 21 best ways to wear a bralettes! trendy!.
3. Do you wear a anything in a bralette?
Only! if you're looking for extra support of lift, then add for double layers under a normal bra. but make sure that it is comfortable.
4. Should a bralette be worn with or without a traditional bra underneath?
Yes! but no more need when you with bralettes with tight regular bra.
5. What types of fabric are commonly used in bralettes?
It's design by lacy! mostly made with cotton spandex, raybon spadex blends, stretch mesh and lace. which is comfort and stylist.
Recommended Articles