A crop top is a versatile outfit, you can make a lot of types of closets, with jeans, sweat- pants, skirts, trousers, and more. A crop top is the most comfortable than other tanks. A crop top of the full top, it means a short upper-body garment that does not cover the midriff. It allows you to breathe and is a good style in the summer dress collection. A crop top is typically made in a style of mid-cut or belly button show-off. It comes in various sizes and styles cut out outfits by different body types. In recent years, styles of crop tops trended tank tops, strapless, ruffle cut, flowy, tight-fitted, and versatile enough to be paired with a different design. A Crop top you can also wear with a midi skirt, high-waisted jeans, Maxi-skirts, or a cardigan blazer if you want to be trendy and fashionable looking with your comparison of fashion hacks. The Spice Girls, Bella Hadid, EmRata, and Britney Spears have been major fashion influencers when it comes to styling crop tops.
We get 23 simple ways to every women's look…stylist…in crop tops fashion hacks
Top 5 Picks – How to wear a crop top 
1. Start simple with jeans and a white crop top.
Pair your white crop top with high-waisted jeans for a classic and flattering look, put a belt to cinch in your waist and define your silhouette, Choose accessories like statement earrings or a layered necklace help to luxurious outfit looks. For a complete the look with a pair of comfortable sneakers or dress it up with heels look amzing! It is a first prirotiy styles of crop top.
2. Pair with a maxi skirt.
Maxi skirts and crop tops are a trendy and versatile combination that gives you to experiment with colors and patterns. For a bohemian-inspired look, choose a flowy and patterned maxi skirt or go for a solid-colored skirt for a more classic and chic look. For a complete again add the necklace, earrings, heels, sandals or wedges to create effortless look.
3. Crop top with Cardigan Top
Sport a cardigan crop top. Cardigans can be cut at the navel to create a casual crop top with buttons and a slightly more formal twist. Zara and H&M Fashion.
4. Layer with a blazer.
Layering a blazer over your outfit is a simple way to gives your style. To achieve more gental, start with a basic top and bottom, such as a white tee and jeans. A structured blazer in a neutral color, like black or navy for any occasion, from the office to a night out with friends.
5. Belly down Crop Tops
Make a faux crop top with a button-down. If you don't want to cut up any of your t-shirts, create a crop top with a button-down shirt by pulling it at the sides and tying it in a gentle knot over your stomach to expose the belly button.
23 ways To Wear a Crop Top
1. Crop top with High-waisted jeans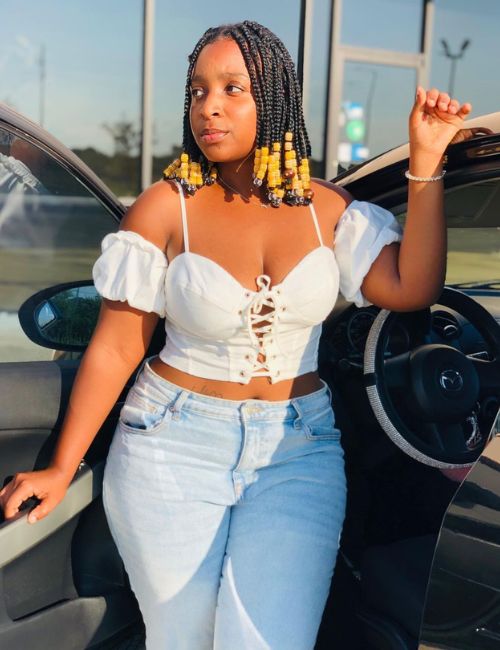 A white crop top with high-waisted jeans is very popular to wear these days… Don't miss the different colors between pairs to make a luxurious look.
Putting accessories with pairs sets, like earrings, neckless, heel shoes and a side purse is basic. extra eyeglasses make it comfortable in summer.
The best way to be self-conscious about showing too much skin and looking too young is a crop top with high-waisted jeans that looks a classic and casual fit. Keep makeup simple and hairstyles are your choice.
2. Crop top with a long skirt or Lehenga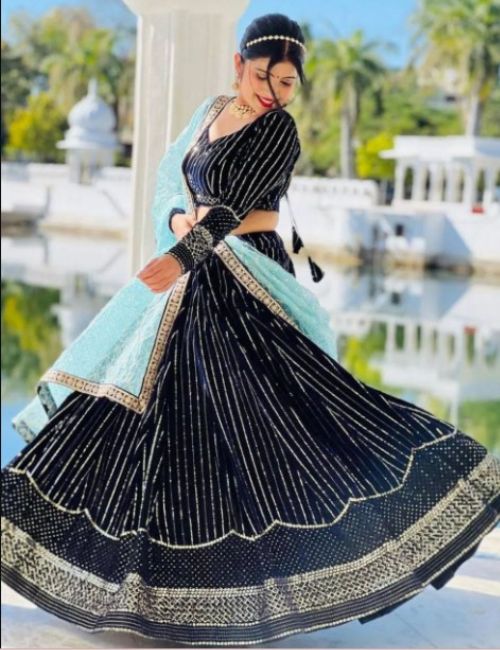 Lehnga is an Indian dress for formal wear at 90s parties or more! Now It is most trendy with a crop top to matching wear.
The crop top is a type of bra with full coverage of top areas you can wear with or without extra outfits like Lenhga and long-bottom dresses.
Tops and bottom to wear a well-pleated skirt, with any color but black color are most recommended.  Skirts come in short, medium, and long lengths but with crop tops, you may look beautiful in long-length dresses or skirt maxi.
3. Crop top and sleeve skirt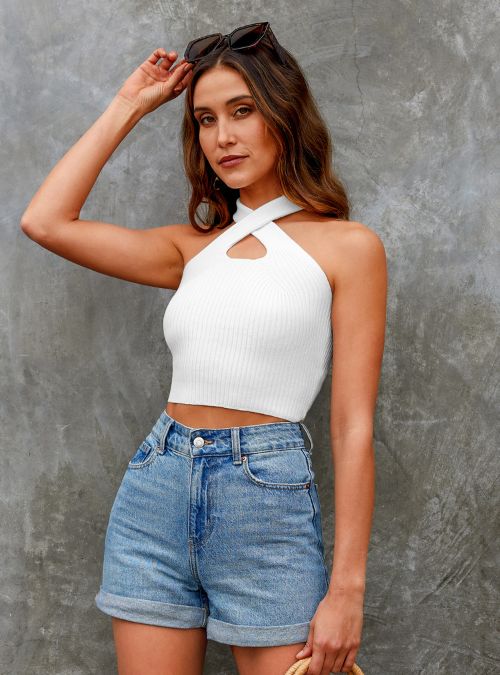 Choose a crop top as a full bra top and straps that may have convertible for a criss-cross or plunge neck amazing with denim boy shorts. Awesome go-match on Cupshe boho-inspired look that's perfect for the summer.
4. T-shirt or shirts as a Croptop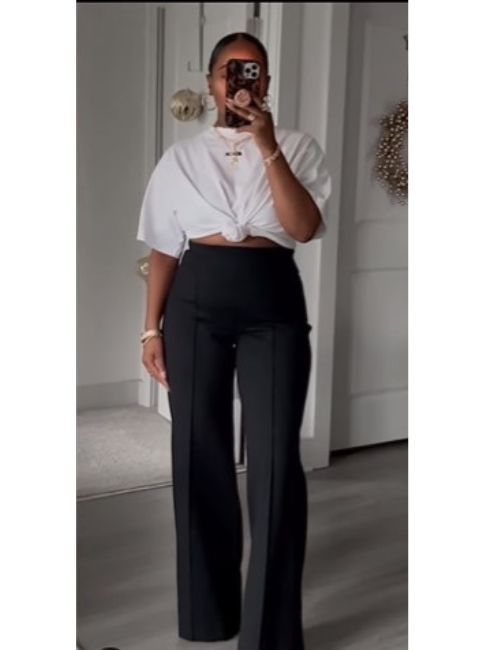 Can you turn a T-shirt into a crop top? Choose a long flat T-shirt, first, you can it cut-off the crop top length, or secondly, pull the part of the t-shirt and band well. Experiment with length, whether you're trim or curvy, crop tops work with all body types.
If you don't find a shirt length you like, you can easily turn a cardigan, tee, v-neck, or another shirt into a crop top with just a pair of scissors and some imagination.
5. Crop top with Palazzo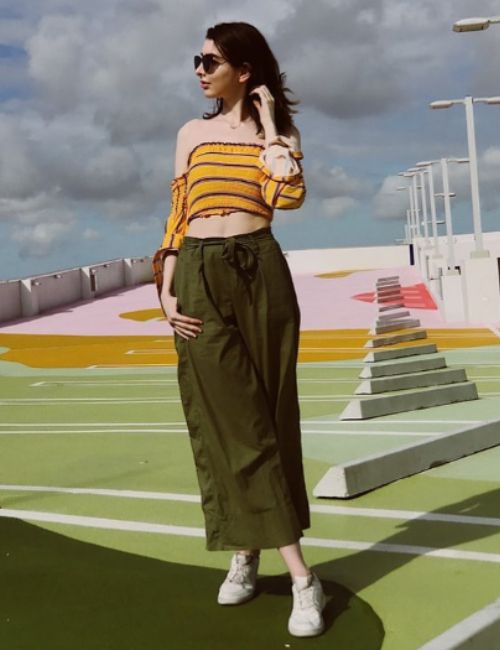 Palazzos with crop tops are fun, airy, and elegant. It is free to move the waist towards the ankles, With ruffle crops look very cool in summer.
Palazzo is made with chiffons, silk, and cotton so with regular plain or printed.
The palazzos with simple crop tops for everyday wear cotton palazzo are the best ideas in summer. Consider a chiffon crop top for a special event or a party.
6. Crop Top with Puff Sleeve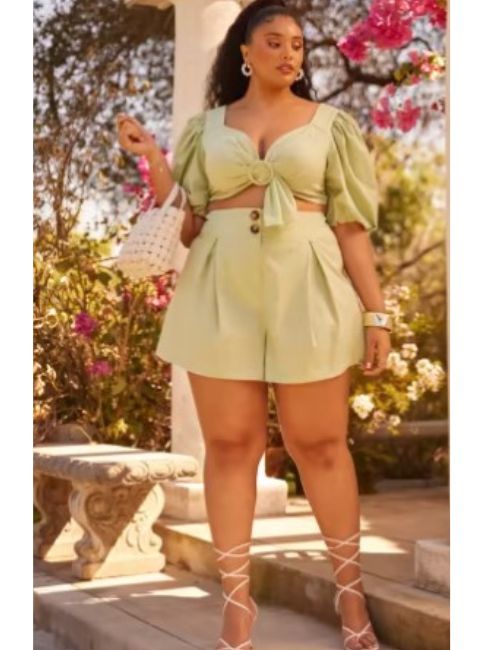 Go for your 20s and 30s party celebration with Skirty and ruffle crop top and flat strappy lace-up sandal. The basic crop tops might not speak to your soul as much as ones with print sometime planes may look so good and ruffles do. Such details take your shirt game to the next level.
7. Sweater or Cardigan as Crop top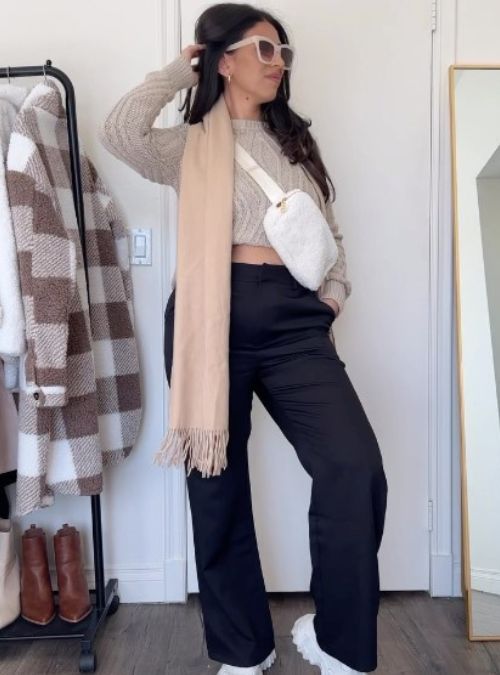 Choose a sweater or cardigan length in half to differentiate the pant and top between gaps. You may pair it versatile, on a lot of occasions.
You can also show off your figure and create a more flattering silhouette attentively than another closet, it provides comfort and is on-trend.
High-rise jeans with a crop top offer ease of movement and breathability more than other long dresses.
It is the best way to be self-conscious about showing too much skin and looking too young. Pair a crop top with high-waisted pants with the sweater is the winter season for a classic and casual look.
8. Crop top Neck Shoulder Lace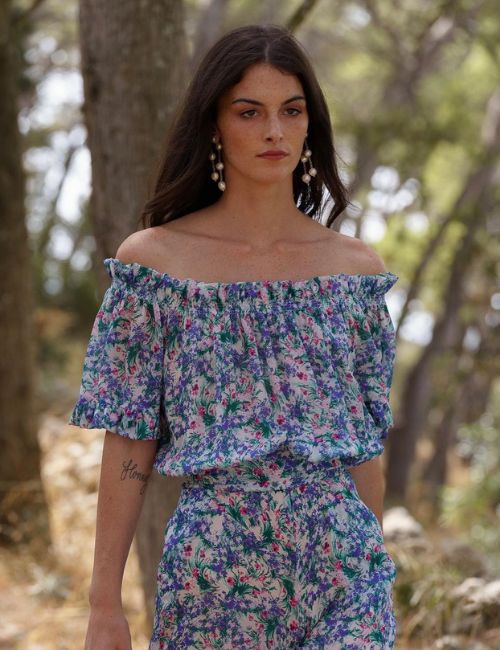 The very simple way to wear chiffons made sets that are trim or curvy, crop tops work with all body types. If you don't find a shirt length you like, you can easily turn a cardigan, tee, v-neck, or another shirt into a crop top with just a pair of scissors and some imagination
9. Crop Top over Ruffle top and Jeans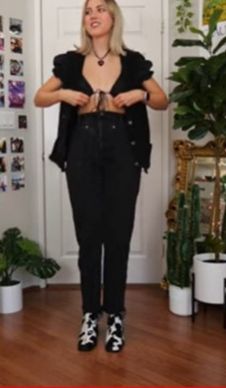 Ruffle tops with mom jeans look finish. Choose without prints and bright colors overwhelm your frame. One way to add some variety to your appearance is to wear a black cropped tee that reveals a hint of skin. This is particularly effective if you want to highlight your well-defined abs.
10. Wear a shoulder Crop top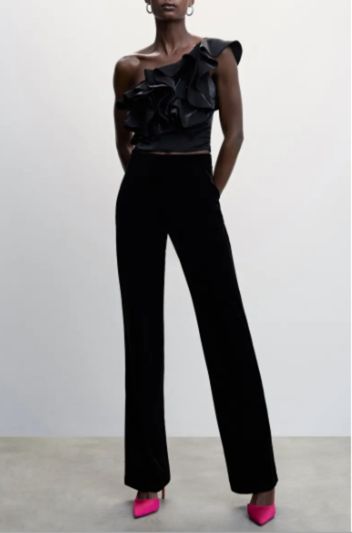 Crop tops and maxi skirts are a great match because they make your torso look longer. The skirt sits high on your hips, which creates the illusion of a longer body. If you want to dress up this casual look, you can add some heels. If you need to attend an event and don't have a blouse to wear, you can just grab a plain white or black crop top instead. Off-shoulder and ruffled crop tops are also popular right now, and they look great with a long maxi skirt. Plus, you don't have to go through the hassle of getting a blouse custom-made.
11. Crop Top vest with Legging Pant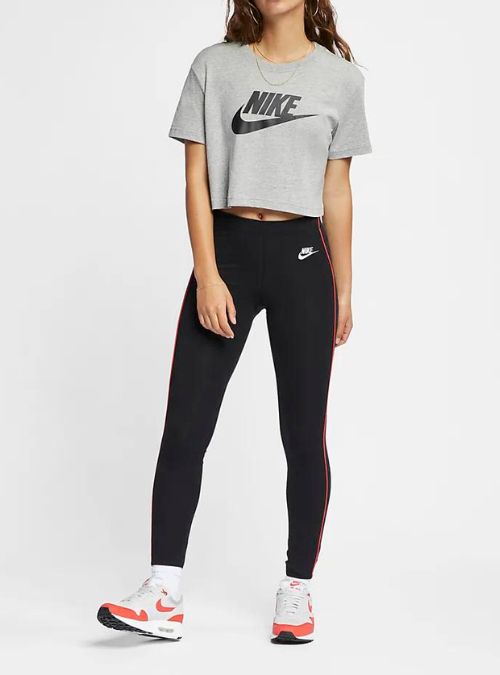 Wearing a crop top with a smooth print is a stylish way to show off your artistic side. This look is all about expressing your creativity, so don't hesitate to try colors and designs that are different from what you usually wear.
12. Crop top with Classy pants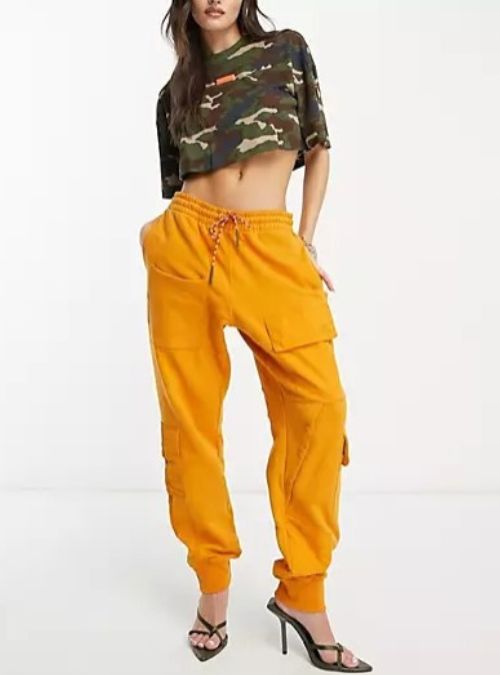 If you want to wear your favorite pair of relaxed-fit boyfriend jeans, try pairing them with a structured crop top. This type of top can be worn from day to night with ease. To dress it up for the evening, switch out your jeans and boots for leather pants and sandals.
13. Crop Top with high rise jeans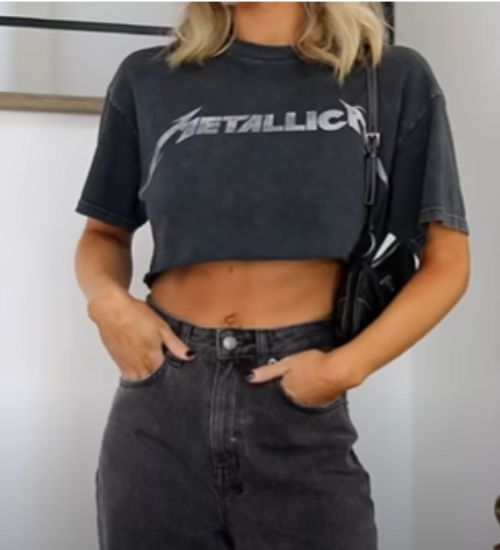 Wearing a crop top with jeans is very simple and easy. You don't need to worry because crop tops look great with all kinds of jeans, such as high-waisted, mommy pants, flared, or bootcut. Just pair them together and you're good to go!
14. Black Crop top with Black or Gray Denim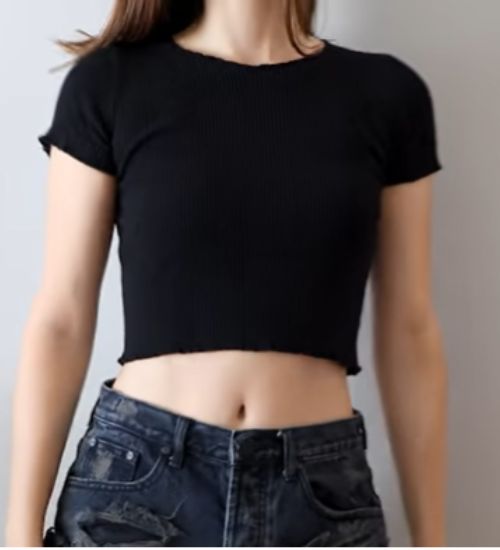 A loose-fitting crop top looks great with denim shorts, especially if you wear a black crop top with blue shorts. Black crop tops can be styled in many different ways, but a classic black-and-white look always looks good. Instead of wearing jeans, you can dress up your crop top with leather pants and high heels. Finish off your look with some large sunglasses to bring everything together.
15. Crop Top with White Pants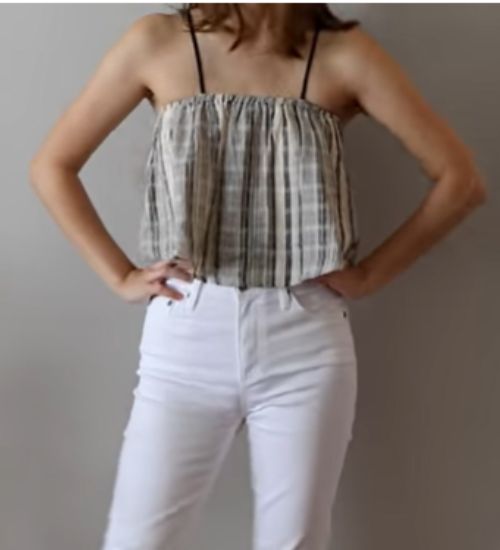 You can create a crop top by tying up your denim or plaid shirt. This is a great way to wear a crop top without actually buying one. Just tie your shirt up and you're good to go!
16. Crop Top with sleeve jacket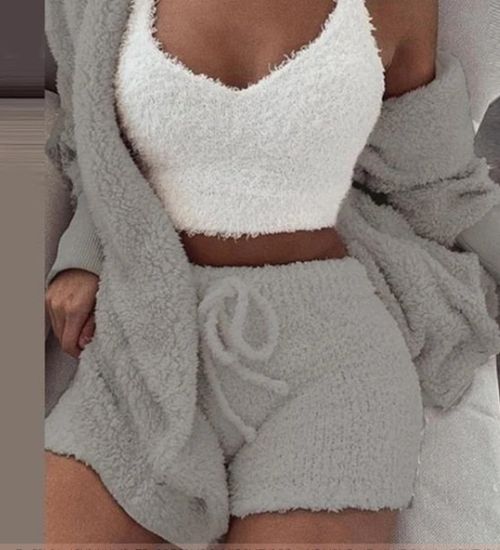 If you like the idea of crop tops but don't want to show too much skin, you're not alone. You can still wear a crop top by adding another layer on top that looks stylish without taking away from the crop top. A leather jacket, denim shirt, or long jacket would work well for this. This is a great way to create a monochrome outfit that looks perfect.
17. Crop Top with Boy shorts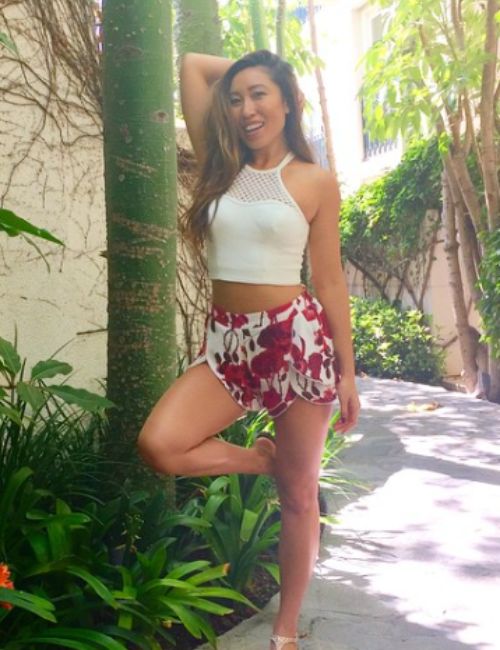 She is the owner of blogilates, She said about how to wear a crop top. A crop top and skirt after a morning of running and some yoga by the beach. Feeling so happy! Be thankful of every day you're living life, because that's another chance for you to contribute something incredible to this world. Every day, each one of us becomes a part of history while shaping our destiny. Don't take any day for granted and appreciate everything and everyone around you. You never know how long any of it will last.
18.Crop Top Butterfly with Jeans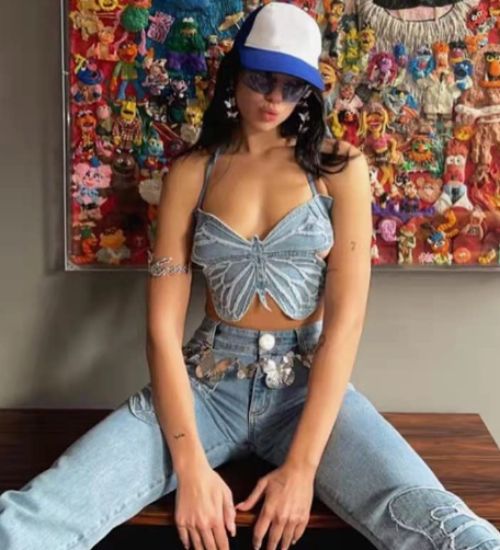 If you want a crop top that can be worn from the beach to dinner, choose one with lace butterfly crop top. The thin material will allow the ocean breeze to hit your skin while still keeping you covered for cocktail parties. This is the Dau lipa denim butterfly top jeans style.
19. Crop Top with long maxi Skirt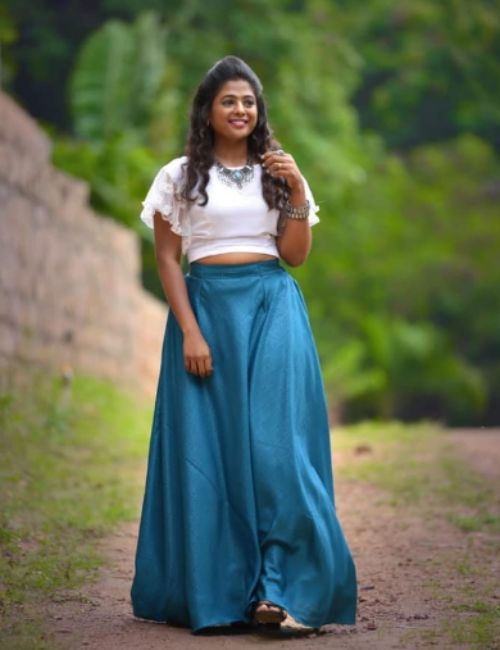 A crop top and maxi skirt make a great outfit for the spring. You can mix and match a printed skirt with a plain crop top or vice versa. However, if you want to go for a matching set look, keep one of them plain. The crop top can have different styles such as off-shoulder, full sleeves, loose or flared, and it will still look great with a maxi skirt. The possibilities are endless!
20. Faux Fur Crop Top with Jeans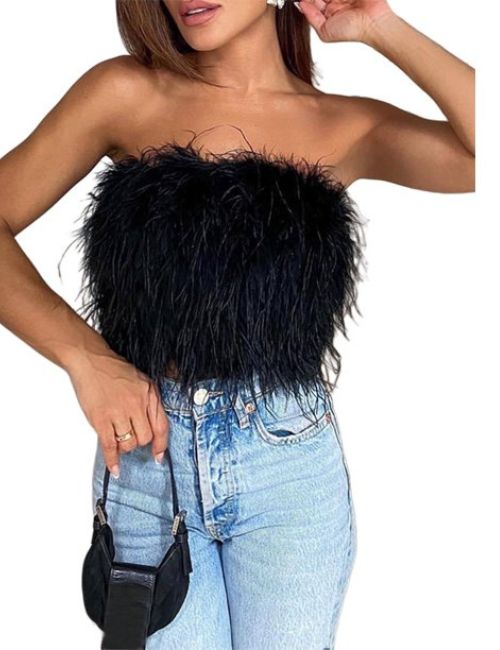 If you're wondering what to wear on your date night, try pairing a faux fur crop top with jeans. You don't need anything fancy, just a strapless skirt and a cute crop top will do the trick. The Women's Strapless Fluffy Faux Fur Tube Top Off Shoulder Zip Up Trim Crop Top is a trendy option, and you can even add a fur handbag to complete your look. As for jeans, full-length ones with buttons are a good choice, and the color doesn't really matter, though white and black are more versatile.
21. Crop top with different designs Skirts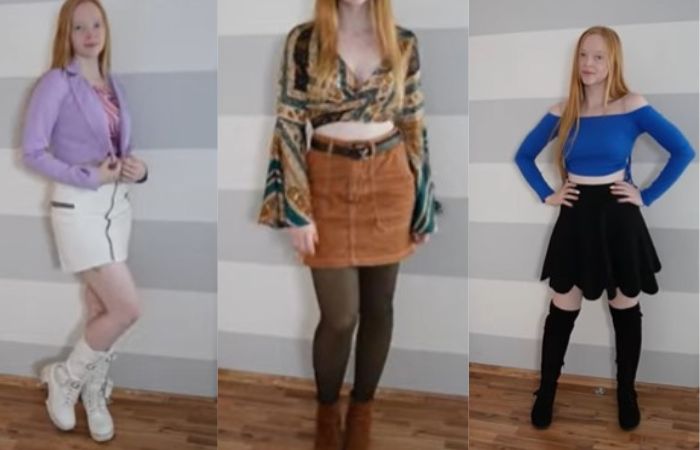 Pair a high-waisted skirt with a crop top
Go for a matching set
Choose a flowy midi skirt
Pair a high-waisted skirt with a crop top: This is a classic way to wear a crop top with a skirt. A high-waisted skirt will cover your belly button and show just a sliver of skin above the waistline.
Go for a matching set: A matching crop top and skirt set can make it easy to put together a stylish outfit. Look for a set that flatters your body shape and is appropriate for the occasion.
Choose a flowy midi skirt: A flowy midi skirt can balance out the fitted silhouette of a crop top. Opt for a crop top that sits just above the waistband of the skirt.
Add a belt, If you're worried about showing too much skin, try adding a belt to your outfit. This will create a defined waistline and help you feel more covered up.
22. Crop Top with Peplum skirt, Tank Top or Suspender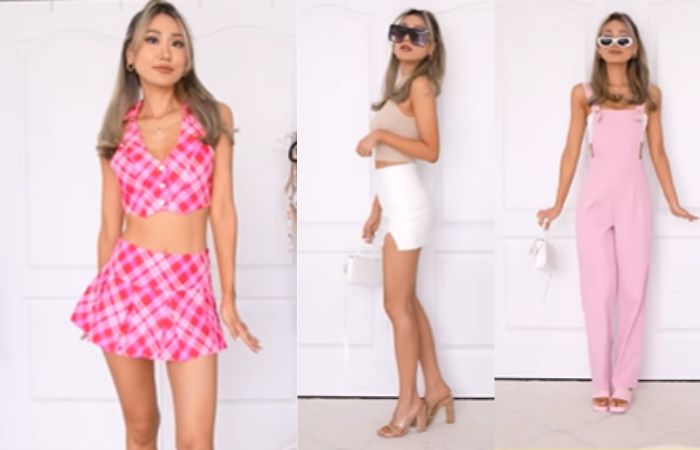 Image 1: Peplum Skirt with Crop top
Images 2: Sleeve Skirt with Tank top Skirt
Images 3: Crop top with suspender
Peplum Skirt with Crop top – Sleeve Skirt with Tank top Skirt and Crop top with suspender
Pairing a peplum skirt with a crop top is a trendy way to style your outfit. The peplum skirt adds definition to your look and gives you a fashionable and chic appearance.
You can also wear a flared skirt instead of a peplum skirt. Just pair it with a well-fitted crop top and you're ready for a dinner with friends or a date. Complete your look with a long necklace and some platform heels or wedges.
Flared crop tops can easily make you look more stylish without any effort. They look great with shorts, jeans, and even linen shirts. If you haven't given this style a try yet, it's time to add it to your Pinterest board!
To add some flair to your outfit, try wearing a crop top with suspenders. You can choose to wear either full-length or half-length suspenders and pair them with a plain black or white crop top. This style is perfect for those who like the crop top look but prefer not to show too much skin. Suspenders used to be worn only with regular T-shirts, but now they add a touch of fashion to crop tops.
23. Cutout Jeans with Lace Crop Top Bra and flowy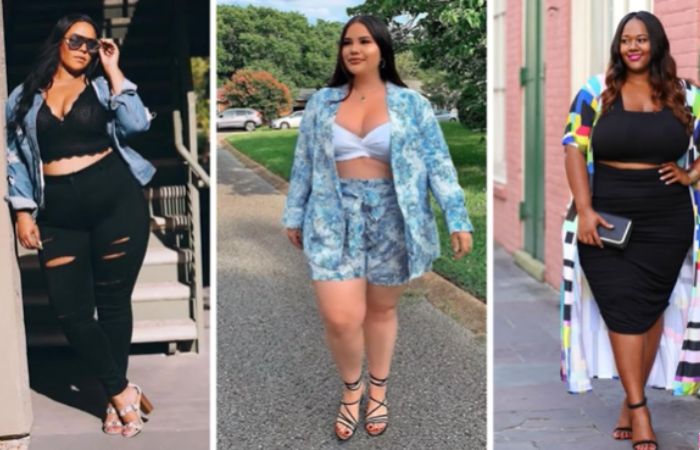 Images 1:Cut-out Jeans with Lace Crop Top Bra
Image 2: matches shorts with Over a Loose open shirt under a Crop top Bra.
Images 3: Crop top Bra with Sleeveless Skirt Over the Flowy long outer cover and hand purse.
Crop tops can be worn at any age as long as you feel comfortable in them. They are fashionable and perfect for summer wear, whether it's a soft tee or a spaghetti-strapped bralette. However, how you style a crop top in your 20s and 30s will be different from how you wore them as a teenager. Here are some ways to elevate your crop top style for date night or hanging out with friends, inspired by celebs and street-style stars. Check out these 19 grown-up ways to flaunt your midriff in style.
To create a stylish look, you can combine a crop top with a flannel shirt. Flannel shirts and crop tops are both popular fashion items, so why not wear them together? If you're not comfortable showing your midriff, you can layer a plain crop top with a shirt or tie the shirt around your waist, which is a popular way to wear flannel shirts anyway.
To add some attractive appeal to your suit, wear a lace bralette. You can wear the jacket closed with a bit of lace showing for a more modest look. Or, leave the jacket open to make the lace bralette the focal point of your outfit.
Why trust slimtoslim
Author – Fashion, beauty, and shape experts
Recommended Articles