Both reduce bouncing of the breast, gives easy and good support to the chest, minimizing the breast movements, but they have some differences In between: First Image: right side- sports bras and right side- regular bras.
A sports bra to make a purpose for sports, athletics, yoga, and running. A bra that minimizes the pain of the breast together to make it easy for physical activities " exercise and weight loss" wear.
Sports bra means for sports but regular bras mean normal, normal bras are designed for everyday wear, like at night-sleep, at home, with outfits and many types of dresses. Normal Bras are Push up, T-shirts, strapless, non-padded, padded, convertibles, full cover, demi-cup, plunge, or more.
Both bras shape and control the breast movements(up/down, lifted, sagging ) regular bras are undergarments to make a cute, stunning, slimming silhouette, back or sides feel comfortable.
Sports Bras wearing stypes no need to Top outfits, only with legging you can, but everyday wearing normal bras to need a top outfit.
However, sports bras may not create bulges, blur, or sidelines, if you have fat, but normal bras tight wear ( in small size) feel discomfort or out of lines.
One question? if you wear a regular bra while exercising? If you wear a sports bra every day? what they will do in the future…. know in detail…
If you're a big chest, you want to replace normal bras with sports bras for daily use" is wrong or not?
Let's Go start... we will discuss it!
First question 1. Can I Regular Bra while exercising?
The normal bra has made in V, U Low cut, not full supports, if you are jumping, running or skipping " muscles may go out of bra " some hot but it is not healthy, look unprofessional and you won't perform well on Treadmill, you will discontinue. Some women want to from home low exercises, then yes you can from normal types of bras but check in it that made perfect cups size, wide straps, and movement supports.
Second Question 2: Can I Sports bras every day?
Sporty women who play in the ground all day, every day professionally, then ok! Sports bras to tightly chaff or compress your chest so all time is not perfect for normal women or girls… like sitting at home, school, office or low level of activities.
Third Question 3: Replace a normal bra with a sports bra
Why! need a replacement… in the markets available tons of designs according to your situation " like students, beginners, party, sports, night, every day, and more available why! replace it! it's the main cause of bouncing the boobs, large boobs may not stay concealed so sports bras put them accurately.
Sports to keep larger breasts into small looks, healthy and fitted but not more attractive than push-ups, or other regular bras.
Benefits of Sports Bra: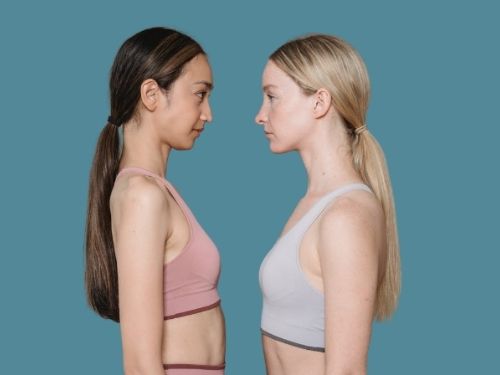 Maintain a shape: it means it works on chest shaping & minimizing, it provides full coverage all around of breast. 360 degrees by/half 18 degree covers in flatten looks.
Reduce a Breast Bounce: It is no joke! While you perform a running on a treadmill in GYM Class, guys to see your movements! how to bounce your pizza, people stare at your chest (up/down) if you choose a regular bra in this situation. A high-level sports bra is perfect.
Continue to focus on workouts: Sports bras have a nice design with the best branded Nike, Adidas, champion, and more trendy brands with wide straps and wide bellow straps with made spandex" this types of good supports and perfects" no create red-lines on your upper arm. But regular bras have thin straps so feel very uncomfortable when jumping.
Sports Bras Great to alternatives of Regular Bras: Skin-mark redlines pain very irritated after wearing a normal bra, so I'm wearing mostly sports bras design, it gives me good and comfort.
After Cosmetic surgery be worn Bras: After breast surgery to need a high-support of muscles that do not more movements" Full sports undergarments are perfect ideas for this.
Confidence: Without distraction, self-conscious performing workouts.
Moisture-wicking: it means your boobs look natural and normal " high- summer days " salt water to make a different look in regular bras but sports bras have multi-layers spandex, so it absorbs all, to keep you dry.
Consider: After wear per day wash it, because it creates bacteria, and dry from direct morning-sun-light. It provides a healthy skin with the healthy color of your products, not discolor.
More Boobs Sagging: Breast sagging many cause Aging, gravitational, weight gain, and lack of proper support, very women to sat" its main cause is breastfeeding also" but my choice weight-gain, and your opinion what? right, your comments.
A Sports bra for…
Sports bras to make easy comfort workout…
Sports bra to help high supports of the chest.
They minimize the size of chest fat.
For beginners sports bra to create a growing big chest in flat looks.
Larger breast to shape and for good support.
Sagging lifting problem to solve even to make sit-in right place.
After an injury or cosmetic surgery is recommended.
Side Effect of Sports Bras:
Sports bras go dangerous while wearing the wrong size, it means they are very tight. If you wear it for a long time tightly, it may damage some important parts of the breast insides or tissue and even create a stretch mark sign…
Skin issues
Fungal infection
irritation or red lines under a strap elastic
If you feel a terrible headache with breadthless, make sure it is the wrong size for you! If you wear a while sleeping healthy job but it is a normal bra. Normal bras give more comfortable than sports bras for a long time wearing purpose.
How To choose Sports Bras:
Our Expert: To advise with impact levels: What is impact level? Impact level is defined by a greater degree/percentage of breast movement of support. A sports bra designer to categories in 3 levels, Low, Moderate and High. It means it depends on your activity:
Low Impact:
Low impact means very low activities, who have very small breasts no bouncing more, no need for weight exercise, only just wear a daily purpose.
Small chest & low activities = low impact sports bras.
Moderate Impact:
If you're some movement, home-workout, cycling, normal exercising, aerobic activity not big-jumping "moderate Impact sports Bra" you can every day, no feel tighter!
Home exercise & medium breast size = good Moderate impact sports bra.
home workout & Big breast size= bouncing high, it means choosing a High-impact.
High Impact:
High-level activities need confidence while performing tennis jumping, high-jumping with running, GYM, and more.
Professionally, Training classes and Hard Yoga + medium-size or big chest = High-impact bras.
Large Busty women's shop this sports bras.
Qn.1 Is it ok to wear a sports bra daily? Sports bras are designed according to how many activities you do, they are categorized into 3 levels, Low levels have low supports like " daily wear or nightwear or maternity bras, Medium level sports bras for yoga, home-workout, and a medium level of daily activities, it can wear a daily basis for all women, whereas High-level is good for GYM, Hard workout, and long-running.
QN2. Do sports bras damage breasts? No, a Sports bra is made with spandex, polyester, nylons, and elastane so it is skin-friendly. It is not a waist trainer that damages your muscles. Waist trainers are made with metal, bones, and hard objects so they do damage but sports bras are good to support any movements and protect from boobs sagging, roll-off, and up-down looking.
QN 3. How To Wear a sports bra? Choose the same size of your regular bras, check the cups to hold full breast, and with the finger full straps and adust your breast in it, correctly start your exercise, running and jumping, if the bras snug and not tight feel, strap hook check and fix.
Wear a Normal Bras instead of sports bras
The Question: can you wear a sports bra instead of a regular bra? One type of bra is not fashionable to look everywhere, its design and cut-out, support and hide under outfits to a different one each other.
Mostly Sports bras are made for one purpose which is the Level of activity to support of bust, whereas normal bras are available in various types, especially for comfortable.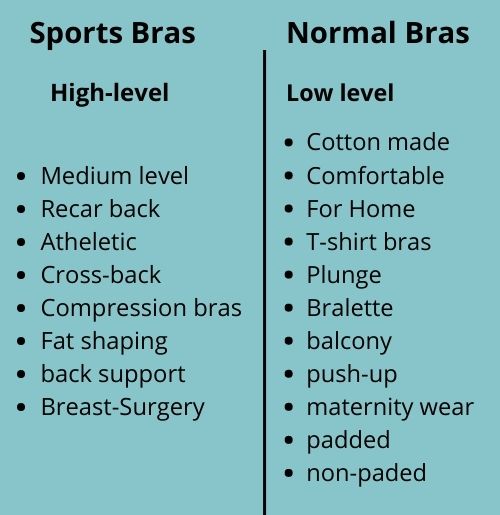 For Examples,
Final Decision: A lot of bras in T-shirts that super best for beginners to wear regularly.
Shaping & control purpose: use sports bras.
Both bras are super best according to the situation, mostly beginners confuse about what to wear first" sports bras or Normal bras" this answer is " sports bra with soft cups underwire bras.
Last question, Can you wear regular bras under sports bras? This technique Commonly people use TikTok tutorials, no side effects when you wear both together, it helps extra double support even feel more confident than one.