Image Credit: Zendaya Instagram
Zenday saree is not Jokes the printed design traditional in India, Nepal, Pakistan, Srilanka, and Bangladesh worn everyday daily wear women's dresses. A long sarong is saree, but is different than sarong, sari is equal to also a mermaid, saree you can wear a lot of ways, Zendaya wore mermaid styles, it is great way, who wearing all types outfits goes to cute! more trendy! on the internet and news! actually in India and nepal saree wear not this way, it is new way absolutely, a traditional way is not boring but very people of women in Asia inspiration by Zendaya! Really this is an impression of a saree is how to wear it? stunning! what ever it depends on design and body shape where to you wear?. Here make some different blouses with saree color! Gold and blue star.
A flor length shoulder wrap at the waist tying looking great in lips tones like Selens gomez Tinded lips and Kylie Kylash eyelash trends.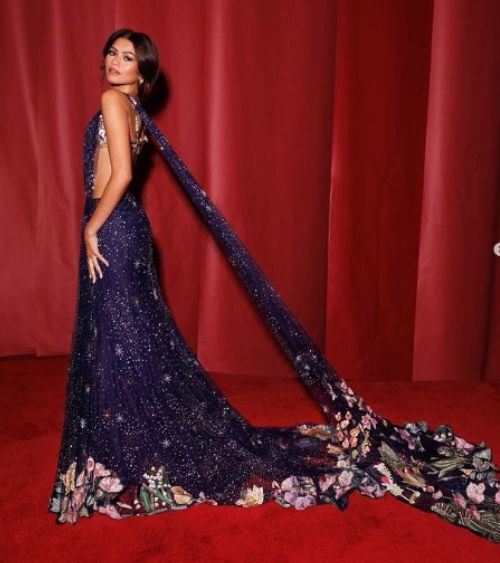 A saree is made of cotton, silk, syntethic, nylon rayon or polyester, But a Zendaya sari is made by mixing silky synthetic nylons on a design color star dot on the blue sky, and Gold Bralette with cranes. Its name similar (Sari, Saree or Shari), A sari with you need to blouse or bralette and under bottom petticoat. A petticoat is like long skirt undergarment with match the color of a saree.
If this business was just about clothes I would do it for the rest of my life but unfortunately, it's not! The politics, the lies, and the false narratives finally got me! You win… I'm out."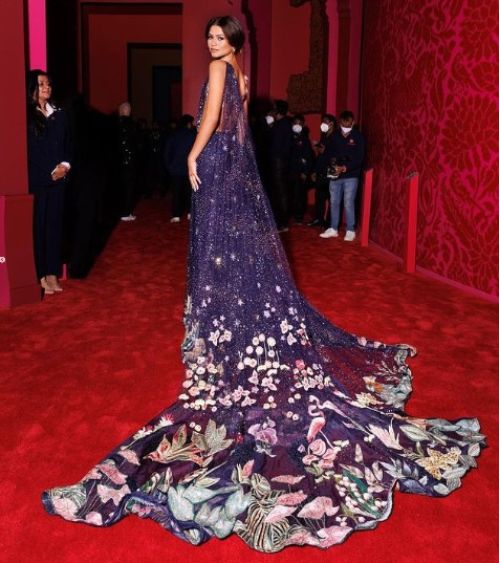 This is a custom design by Rahul Misra at India Mumbai, but this style a lot in the market. Only that is the difference is the wearing Methods.
It has a little bit mermaid look! Zendaya is a stunning, unreal look! so gorgeous also from the side corner, walked the red carpet in a midnight blue sari-inspired design with sparkling embellishments and a trailing train. Underneath, she wore a gold bralette with leaf-shaped sequins.
How to wear a saree? Zendaya style…see on instagram & learn from youtube it is Drapping trick to long!
Step1: First of make sure petticoat is tight snug
Step 2: make sure length of shoe saree long, start from taking the ends wrap on your waist, wear a to long
Step 3: Take another end of saree, use a finger span the 5-7 times, after from behind take over a shoulder after use a safety pin.
Step 4: One end of long to bring like a mermaid in back, where is printed more.
Step 5: Check and again slit the saree with a safety pin if you need.
Last steps, Your legs completely hide and to wake easily on red carpet make sure. Thanks!