Image Credit: Selena Gomez Instagram
Selena Gomez created a new content on rarebeauty homepage with this images goes viral everywhere, on TIkTok @seanonthonyv millions of views, on youtube 139K views, on instagram 10.7 millions likes and on Sephora sale home page. Realy i loved for creating a content that may goes to viral on every plateform, it is real not joke! I super exited! with this celebrity.
Selena Gomez looks so gorgeous one eyes close in photos to show off " trendy new rare lips oils, who is not only singer, she is also great teacher of to teach peace of mind as well makeup artist and business content creator also for own rare brands…
In photos, Selena Gomez makeup superb popup indian makeup look! her face so cute, her oufits V-neck, black hair curly to long. Earring is round with white stone. All makeup with rare products like foundation, concealer, & more.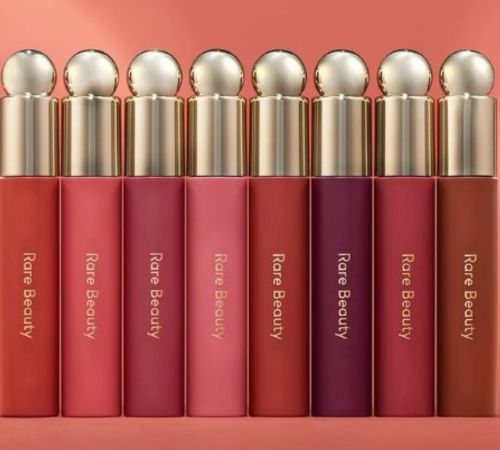 Dewy colors give to good shiny lips. How to use this? is between of lipstick and lipgloss, very simple you can be worn alone when you're fast! it is more consistency and luxuruous than lip balm, again selena says " it has long lasting formula even you feel natural lips. It has a lot of 8 shades, Give it one swipe for a slick wash of color, or layer up for a bold, juicy pop. Made with jojoba and seed or plant based it full naturally no doubt.
Serenity – warm rose
Affection – muted berry
Joy – muted peach
Happy – cool pink
Delight – rose brown
Hope – nude mauve
Wonder – rose mauve
Honesty – nude brown
You find innovative gel to tint your lip oils, that is rare beauty" soft pinch tinted lip oils" this jelly has lightweight oil looking so glossy off, and never sticky leaving all day comfortable. It keep you stable your lips exactly you want, selena says its for hydrate and nourishes lips in spring or summer seasons. You may keep you protection of dryness or crack of your lips. I check on sephora it's very trends right now! on fisrt page home screen, we see a lot of beauty stores recenty updated on fisrt page under 30$ on sephora, its affordable for all.
How To Use? For an even fuller, defined look, first line lips with Kind Words Matte Lip Liner (sold separately).
Ingredients:
Jojoba seed oil – moisturizes and creates a protective barrier over lips to lock in hydration.
Sunflower seed oil – antioxidant-rich; soothes & protects from environmental stressors
Extra – Aqual oil with a lot natural serenity, happy, joy, delight, hope, wonder or honesty ingredites to uesed.
Why selena love it? says " One swipe and your lips look so full and smooth! I love how easily you can build up the color without it getting sticky" Yes.
right now also: Kylie Jenner (Kylie +Kylash) Mascara trends