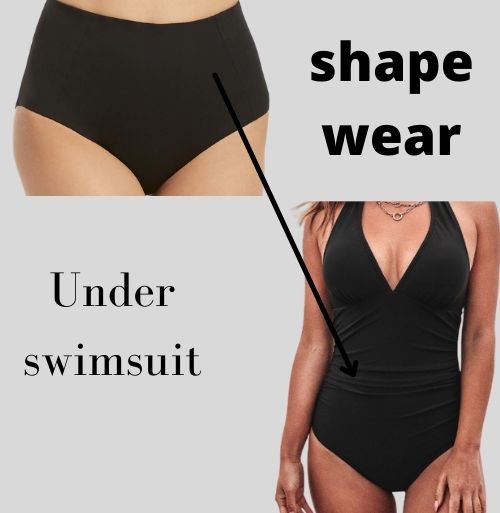 Nowadays, shapewear is made in a lot of types and designs that give off to our different areas of body. It helps to reduce over size looks, mostly it is made for tummy control, or love handles to reshape underneath clothes.
Some shapewear will make you distracted when absorbing the water at the beach pool, feel weighted clothes overload your body, hang, lifted, irritate, and discomfort.
So First, I suggest swimsuits as shapewear, for buying better than "under something" no remind any object under your swimwear that makes loose, show off, and unmatchable.
If you yes! I really need underwear in a swimsuit…I'm ok!
It's matching is not a hard job, it is possible, we found some products from the market! that you can under your swimsuit, but it is…proof
Chloride proof
Absorbs less water
Fast to dry at the beach
No create bulge lines and perfect showing smoothness.
same color match.
While swimming performs: Cotton– made panties absorb more water and chloride chemical, so this type of undergarment roll down below, dragging unnecessary lines to make you feel discomfort.
Less water absorb material is full polyester, Nylon, and some spandex made undergarments, which won't create specific lines on the edges of clothing.
I mean, you can wear shapewear under a swimsuit but shapewear is designed to smooth and shape the body and can be worn under clothing, including swimsuits.
However, it's important to choose a shapewear product that is made from a breathable, moisture-wicking fabric, to ensure that you stay comfortable while swimming.
You should also make sure that the swimsuit you choose is the right fit for your body, as wearing shapewear will not fix an ill-fitting swimsuit.
Spanx thong under Swimsmivo swimsuits
For Example, you can from these undies put under swimsmivo swimsuits..
You can't verify it by taking your swimsuit and turning it inside out, glancing for an inner layer of material under, and separating one from each the other, so it isn't visible under the swimsuit.
Spanx thongs you also to under hide swimsuits, short size makes extra tummy control, and love to handle fat with a muffin top to smooth double effects, The chloride proof nylon made undies are good for fast drying. You can't detect when these types of shapewear are under a swimsuit, if you match the same color (black under black) it may make you extra confident.
Spanx Thongs have Six colors, which is a great job with any tone.
Girdle panties under swim dresses
Second example, Girdle Panties under ruched swimdress,
Getting immediate sliming results, core compression without any bulge looking under swimsuits, great sets, it provides back support, postpartum, and improves the posture at the beach in frock-flattering swimsuits.
This swimsuit have already pant shorts, it does not shape your tummy, so you replace girdle panties, it helps eliminate the panty lines and slim down your stomach, hips, and love handles.
One-piece swimsuits and built-in dresses over a ruffle top, are a modest look, if you put under extra tight high-waist panties, create a slimming look.
Miracle engineering skirts are never bad, actually feel slim, when adding an extra supporting undergarment is made in the girdle.
So, therefore, you can easily wear shapewear in a swim dress? Yes or NO! comment in the box.
Invisible Brief with Miraclesuits
Invisible Brief bikini panties and miraclesuit tummy control.
Who can wear invisible underwear? who want to be seamless and don't mark the skin, shaping well gives a smooth under like this swimsuit. High-elastne is great for stretch stay good you respectfully, supper flat and cute edges.
More benefits of choosing an invisible Panties No.5, the same tones as this miracle suit, so that you feel confident with your panti-lines at the swimming pool.
Are miracle suits worth the money? Most women want to stay pretty, without symbols of fat at the waist, tummy, and mom pooch, if you agree with me! It is real "The Miracles brands especially design for its solutions so it is worth your money if you add an extra shaper thing under this suit obviously you feel skinny look.
Why Miracle swimsuit is favorite for slimming suits?
According to the miracle official page, you lose 10 pounds lighter in 10 seconds when buying miracles flattering-pulling swimsuits, if you add these under-shaper panties, it delivers a fitter, function to show off, beautiful curves, and give extra confidence.
Maidenform with Gman
Waterproof Madienform brief with Geman neck mesh ruched swimsuits.
To get a proper shape, silhoutte and entire shape, all people need extra invest on good shapewear with swimsuits Best shapewear panties
Shapewear Allow swimsuits
Spanx is waterproof and more beneficial for shaping fat, it depends on what types of designs you choose if you have skirty, flattering, frock, bikini sets, or tankini sets:
Allow Designs – One-piece, tummy control, flattering-frock, swim dress.
Not Allow Design – Two-piece, bikini sets, swim shorts, and more.
Benefits of shaper panties under swimsuits
Right-shaper bikini bottoms you can under swimsuits, it has more benefits:
Elastic nature undergarments provide a smooth look
reduce the strain
self-confidence
For beach loss in inches instantly
Tones the waistlines get a good shape
How do you hide your tummy fat in swimsuits?
If you are tired from a lot of types of swimsuits they do not hide your tummy fat, it means to take under girdle sets, invisible briefs, and Spanx thongs these are specially designed for shaping a tummy.
In conclusion, shapewear exactly you will not wear under swimsuits, but its design with chlorine proof in a short, brief, or smoothy, it's OK.